About
Lamai Beach

Probably the best beach on the whole of Koh Samui the soft open sands of Lamai Beach are just part of the attraction of the area. Known by locals and visitors alike as a hot spot of entertainment on Samui it is second in size to Chaweng but unbeatable in terms of quality.
About lamai-beach.com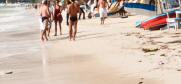 Although experienced travelers have known about Lamai for many years there has always been a need for a dedicated site showcasing just the best about Lamai and the Mamet area. If you want to know about the beach, accommodation options, best things to do and best places to go then this site has what you need. This site is the definitive FastFacts guide to the beach, giving everything you need to know to enjoy your visit to the beach.
For more information please contact us, or just turn up and enjoy the experience!
This is a FastFacts Travel Guide by WL Media HK.